Our Favorite Collagen Products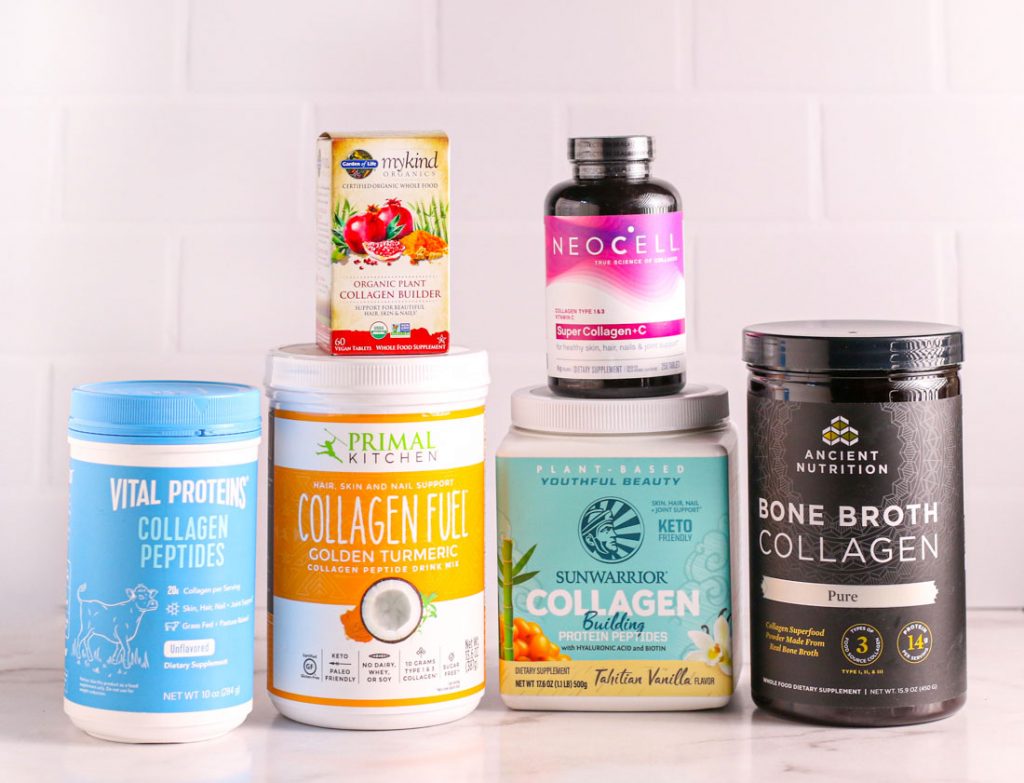 Vital Proteins – Collagen Peptides
Vital Protein's original formula, collagen peptides, is an unflavored powder, which you can add it to any drink or meal for added benefits, without disrupting flavor. This powder contains hyaluronic acid and 100% of the daily vitamin C intake, which help the body naturally produce more collagen and creates a more radiant appearance. Plus, this formula is paleo friendly, gluten and dairy free, and contains no added sugars.
Primal Kitchen Collagen Fuel – Golden Turmeric
Primal Kitchen has blended turmeric and spices to add to their collagen powder, adding extra health benefits. The superfood, turmeric is a powerful antioxidant, linked to having potential beneficial effect to those with heart disease, arthritis, and depression. This aromatic blend is free from added sugars, soy, dairy and whey and is keto and paleo friendly.
Garden of Life – My Kind Organic Plant Collagen Builder
These plant based, vegan tablets are made from over 30 USDA organic whole foods, and contain biotin and silica to help maintain a healthy level of Collagen, Keratin and Elastin which aid in promoting hair, skin and nail health. The powdered organic plant foods in this product help to replenish collagen levels naturally so you can look and feel more radiant.
Sun Warrior – Collagen Building Protein Peptides
While most collagen is animal derived, Sun Warrior offers a plant based solution filled with amino acids and peptides, which are naturally converted into collagen. This anti aging formula is packed with silica to boost calcium absorption, leafy greens to fight against damage from free radicals, biotin to promote healthy hair, skin and nails and tremella mushrooms to promote water retention in cells.
Neo Cell – Super Collagen + Vitamin C Tablets
These tablet forms of collagen come in a hydrolyzed form which are easily absorbed by the body and help build important proteins in the body. These tablets are made with two types of collagen and Vitamin C which support cellular health and protect against environmental stressors. In a a clinical study over three months, over 60% of users reported firmer and softer skin as well as improved skin hydration.
Ancient Nutrition – Bone Broth Collagen
This collagen powder is made from non GMO, USA farmed and sustainably sourced chicken bone broth. This powder not only has the abundant benefits of collagen, but it also features 19 amino acids to support gut, joint and skin health. Simply mix this powder into warm water to create a chicken bone broth flavor, or include in your favorite savory recipes, to add taste and health benefits.