Brands in our February Member Bags
Learn more about the amazing brands that are featured in our member bags. These brands meet high quality ethical, nutritional and dietary standards, and we are so excited to share their products with our members.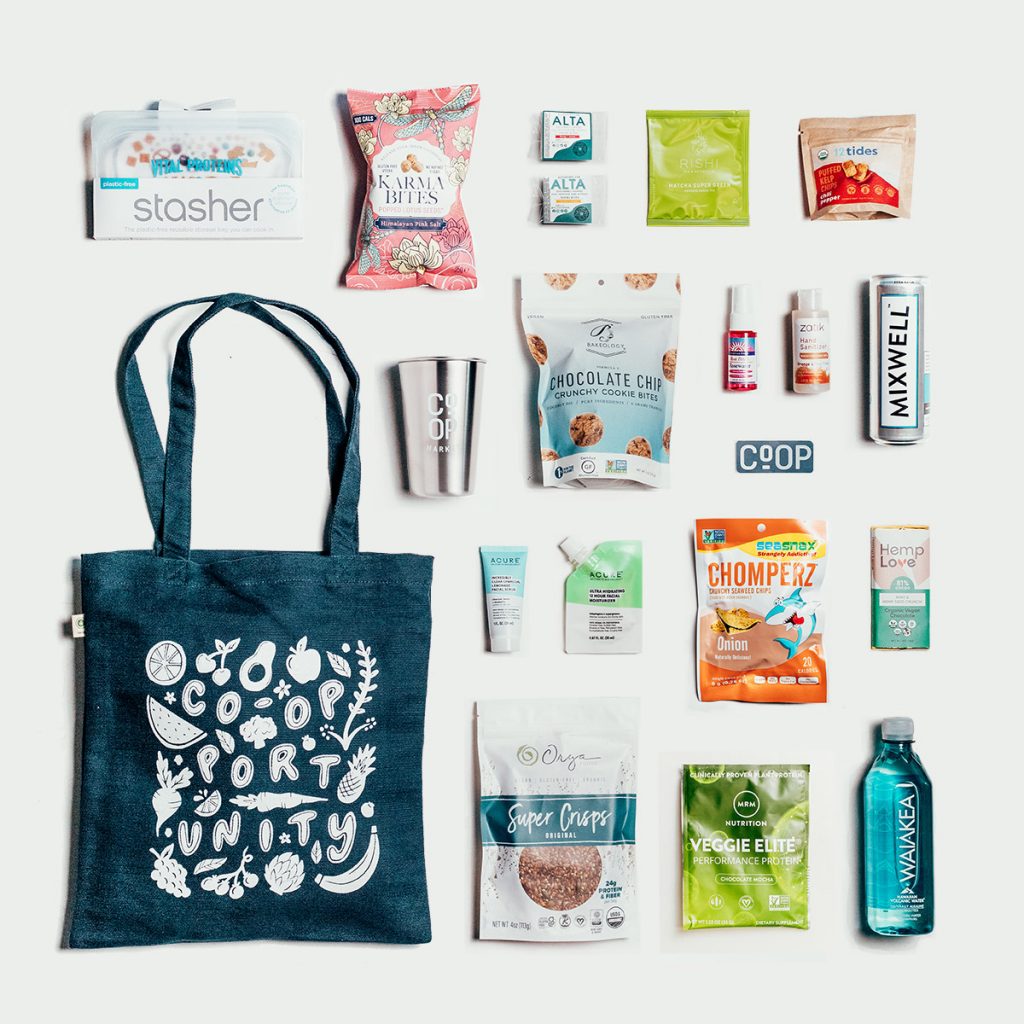 12 Tides 
Started in efforts to help reduce carbon from oceans and increase water quality and sea life biodiversity, 12 Tides utilizes regenerative ocean farming of kelp to use in their tasty snacks. Their plant based kelp chips use sustainable packaging, and one percent of their profits go to environmental efforts.
Acure
Acure specializes in skin and hair care products, with a wide variety of products tailored to different needs. There products are 100% vegan and are free from harsh chemicals including sulfates, petroleum and formaldehyde.
Alta Goods 
Alta makes delicious CBD granola bites with whole ingredients like pumpkin seeds, quinoa, and sesame. They source their CBD from trusted farmers in Vermont, to formulate a flavorful and satisfying snack.
Bakeology
These delicious crunchy cookie bites come in different flavors including chocolate chip, snickerdoodle and vanilla chai. Bakeology was started by a mother daughter duo in Southern California, who began selling their cookies in Malibu in 2013.
Hemp Love 
A chocolate bar packed with nutrients! Hemp love does not contain any CBD, and was the first chocolate bar to be sold containing hemp seeds, which contain Omega 3 and Omega 6 fatty acids. Their products use a blend of Ecuadorian & South American Cacao and are gluten, soy and dairy free.
Heritage Store 
The Heritage store has been around for over 50 years, with a mission to enhance physical and spiritual health by formulating their products to meet clean beauty standards. Their rosewater products are some of their most popular, and have been featured in New York fashion week and other popular publications.
Karma Bites Goodness
These healthy and tasty snacks made from popped lotus seeds are vegan, gluten free and a good source of protein. They come in five delicious flavors including Himalayan Pink Salt, Peri Peri and Wasabi.
MRM Nutrition
Founded by a dietitian and a clinical researcher, MRM Nutrition specializes in holistic proteins, vitamins and probiotics. They use a hybrid of Eastern and Western medicine to provide cutting edge, responsibly sourced ingredients to provide nutritional health benefits.
Orga Foods
Orga Foods makes healthy and delicious seed crackers and nutritious, chewy fruit snacks. Their seed crackers, called Super Crisps, are packed with antioxidants, vitamins and omega 3 fatty acids, using a base of superfood ingredients including chia, flax, sunflower, sesame, and pumpkin seeds.
Mixwell
Mixwell makes a variety of premium sodas and mixers made from natural and organic ingredients. Mixwell was created by veteran bartender Billy Ray here in Los Angeles to help celebrate local bartenders.
Rishi Tea
Rishi has been committed to providing high quality tea and using sustainable practices since it was founded in 1997. They utilize direct trading with farmers, so they know exactly where and from whom their teas are sourced.
SeaSnax
Using high quality seaweed from Korea, Seasnax are delicious and crunchy snacks that come in a wide variety of flavors are the perfect snack for people of all ages. Plus, they contribute 10% of their annual profits to various non-profit organizations invested in environmental and social causes.
Vital Proteins
Vital Proteins specializes in products containing collagen, which provides essential nutrients and many health, wellness, performance and natural beauty benefits. Their powder supplements can be enjoyed in any hot or cold drinks and even in food.
Waiakea
Originated outside of Hilo at the base of the Mauna Loa volcano, some of the purest natural alkaline water is sourced. Waiakea water uses 100% recyclable material and for every liter of water purchased, they donate one week of clean water to Malawian villages.
Zatik Naturals
Zatik Naturals makes organic and vegan body care using botanicals and essential oils. Located in Glendale, they make their products in smaller batches to assure they maintain their freshness and meet their high quality standards.
*Products may vary. While supplies last in February.