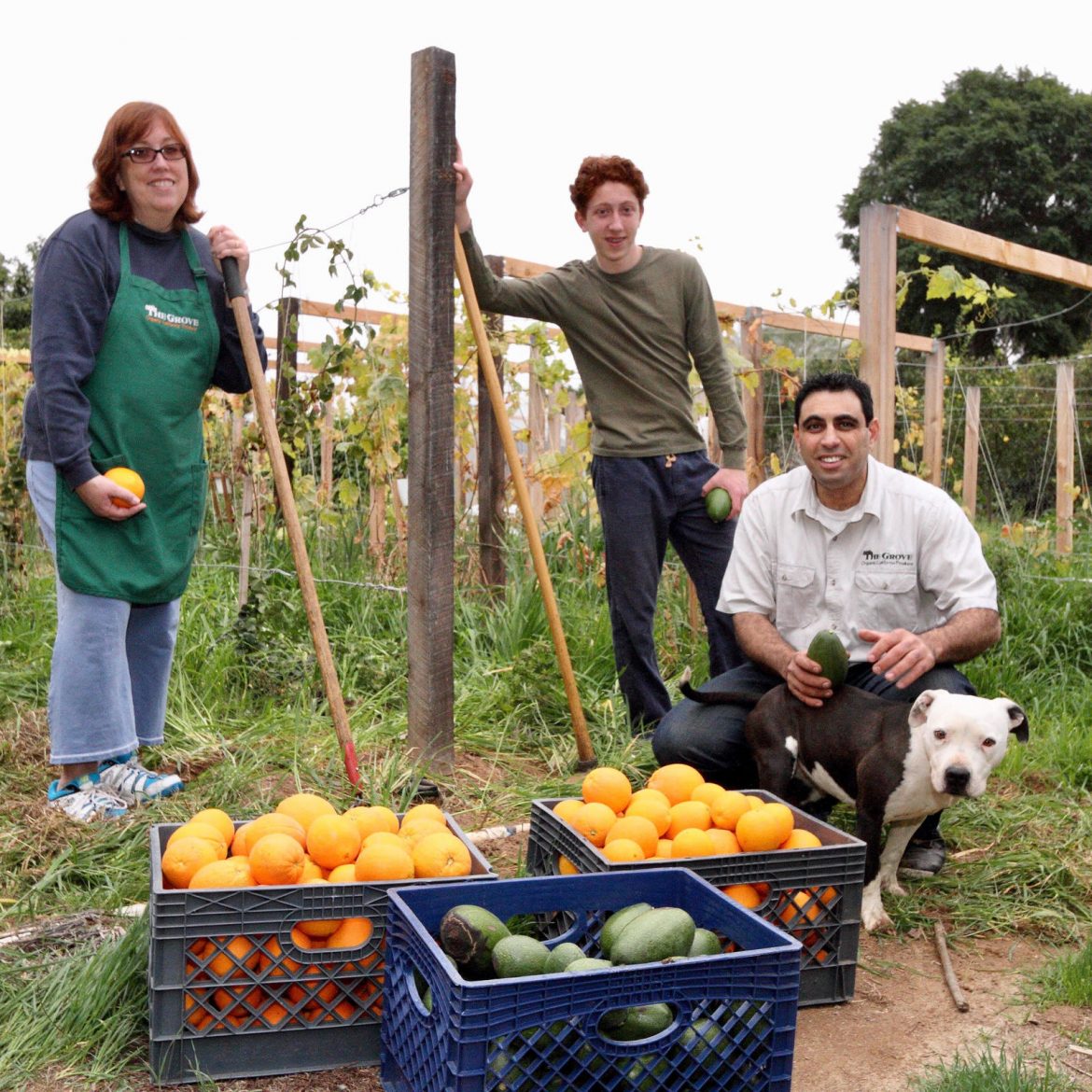 Sweet, seedless oranges that are best eaten fresh (rather than juiced) – yes, please! We're delighted to get super fresh organic navel oranges from local grower The Grove, Co+opportunity's supplier of choice for over a decade.
The Grove is a certified organic family farm in the Arlington Heights district of Riverside, California, about five miles away from the home of the first navel orange trees in California, which arrived in the 1870s. Navel oranges are the pride of The Grove, and occupy more than 7-acres of the 10-acre grove. The rootstock of The Grove's orange trees was planted over a century ago.
The Ghamlouch family (Hassan, Deborah, and their sons Zachary and Jacob) purchased the fourth-generation citrus-and-avocado family farm from Deborah's parents in the early 2000s and set about making some important changes. Their decision to become certified organic was informed by a mixture of personal experience with eating an organic diet and philosophical commitment to sustainable and environmentally sound farming practices. In Deborah's words, "We are trying to do our part to give back to Mother Earth." Not only were these changes personally important, they were vital to The Grove's success: "If it was not for that decision, we would not still be here," Hassan says. "The key was organics and diversifying."
"From an old orange grove we now have dozens of varieties of citrus and avocados as well as growing a few trees of our favorite fruits to share with family and friends," Hassan says, including persimmons, pomegranates and peaches. As part of their efforts, Deborah and Hassan have joined Grow Local Riverside (a project to encourage more farming in the city) and become board members of the Riverside Food Co-op. "Our kids have jokingly called us activists," says Hassan. In this case, it seems that the kids are all right: The Grove and Co+opportunity both, in Hassan's words, "share the same goal – to share great tasting food with as many people as we can that is grown sustainably for both our bodies and the environment."
"The Grove is one of my favorite local producers," says Inez Gobert, head of Co+opportunity's Produce Department in Santa Monica. "Hassan is always up front about whether the oranges are ready for us, and makes sure we only get them when they are super fresh and delicious."
Be sure to pick up some delicious navel oranges on your next trip to your co-op – the season belongs to The Grove!
Photos © The Grove