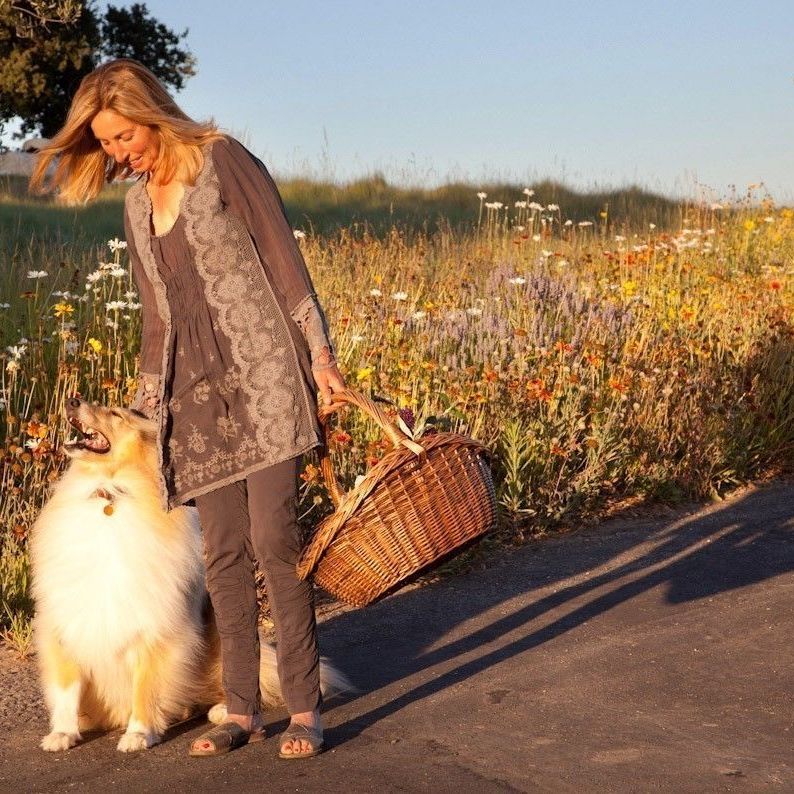 When you hear "Forbidden Fruit", what jumps to mind? If you're an in-the-know blueberry lover, Forbidden Fruit Orchards is the only possible answer! Organically farmed on a southern slope in near Lompoc about 12 miles east of the ocean, Forbidden Fruit's blueberries thrive in the same microclimate that produces great Pinot Noir and Chardonnay grapes. The east-west orientation of the Santa Ynez mountains directs cool, temperate weather inland: "This allows us to let the fruit hang and ripen slowly, adding wonderful flavors but maintaining its crispness," says owner, vintner, and farmer Sandra Newman.
Sandra Newman (who holds a B.S. and M.S. in Plant Science from the University of Delaware) purchased the parcel that is now the home of Forbidden Fruit in the early 2000s with the intention of growing notoriously-finicky Pinot Noir grapes. The blueberries were planted at the suggestion of a small farm advisor as a 50/50 shot – if the blueberries ripened at precisely the right time, they would deliver the financial returns and breathing room needed for grape vines.
Thankfully for both wine-lovers and blueberry-lovers, the plants stayed evergreen and did not go dormant through the winter, allowing Newman to produce fruit off-season (not competing with large growers) and plow the returns back into the estate's sandy soil.
In 2005, Newman did a trial planting of about 200 tea plants in conjunction with the University of California's Small Farm Program. In 2007, Pakistani mulberries, currents, hardy kiwifruit, and avocados joined the estate, along with acres of Pinot Noir and Chardonnay grapes, which became the estate's first wines in 2011. Some of Newman's grapes are sold to other vintners, but the wine she makes from her grapes are sold under the label Cebada, named for the nearby canyon. Wine grapes now occupy about 7.5 acres of the 100 acre property; apples, red and pink currents, figs, bananas, olives, gooseberries, and hops tended by Pacific Valley Hops have joined the party, while blueberries now make up more than 8 acres of the estate.
And what blueberries they are! Hand-picked and hand-packed by workers paid a living wage, Newman grows a number of varieties, including juicy Jewels, prolific Sapphires, and huge Emeralds.
Stop by the co-op and pick some super fresh, super delicious, and super affordable Forbidden Fruit blueberries today!
You can also find Sandra's blueberries (and much, much more) at the Santa Monica, Venice Beach, Calabasas, Hollywood, Beverly Hills, and Mar Vista Farmers' Markets. For more information, visit forbiddenfruitorchards.com
Photos © Forbidden Fruit Orchards.