To make shopping at the Co-op as safe as possible, we continue to respond quickly to the latest COVID-19 developments.
Our policies far exceed the minimum requirements and protocols and with your help and cooperation, we will get through this together.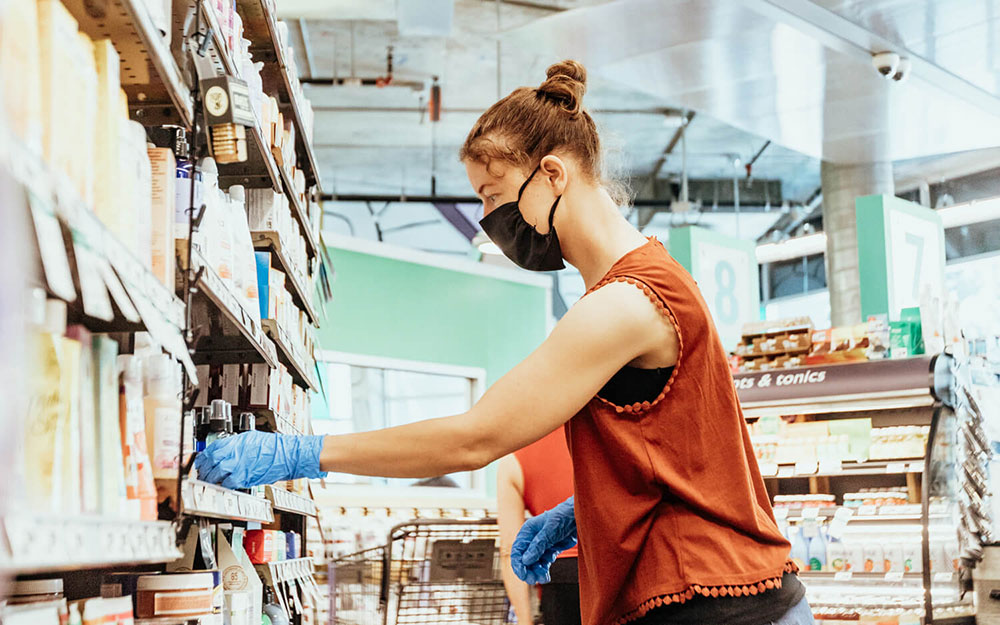 Updated Policies

as of March 1, 2022
Co-opportunity Market Requires Masks
Masks are required for all customers and staff. We do not meet the criteria in the Interim Masking Policy to allow individuals to go without a mask.  Please note when the Health Department guidelines change, we will update our store policy.
March 16, 2021
Sanitizing High Touch Surfaces
We continue to regularly sanitize of high-touch surfaces at regular intervals throughout the day.
Face Coverings
A proper face coverage is required to be inside the Co-op and while waiting outside in line. Masks should cover nose and mouth and should be made with two or more layers of clean, tightly woven, breathable material.
Social Distancing
Measures have been implemented to ensure physical distancing of at least six feet between customers and staff which include Plexiglass partitions at registers as well as floor decals.
Lower Customer Capacity
To ensure customers and staff are able to maintain regular social distancing while in the stores, we are complying with the most updated LA County Department of Health order – allowing for 50% maximum capacity. We often have little to no line to enter the store, especially in the morning and evenings.
Co-op Curbside & Delivery
Our online ordering system serves as a way to keep our stores less crowded, and also as an accommodation for our higher risk customers. We encourage customers who are unable to wear face coverings to use this service.
Daily High Risk Shopping Hour
The 7am – 8am hour is reserved to serve members of our community who are over 65 or are part of our more vulnerable higher risk populations. We request customers not at high risk to wait until after 8am to shop.
Personal Reusable Bags
It's now okay to bring your reusable shopping bags (no produce bags, please), but we ask that you keep the bags in your cart and bag your own groceries. Please do not use them to shop directly into your bag and do not place them on conveyer belts when checking out.
Personal Containers
We are unable to allow customers to use their own refillable containers for prepared foods, bulk or juice bar purchases. However, we are now offering Co-op reusable glass jars for you to collect your bulk items in. Pay a 50 cent bottle deposit to use one of our glass bottles. Return used Co-op jars and get clean replacements at the registers.

Santa Monica Bulk Department
Co-op Santa Monica's bulk department is now full service. Please ask a team member to help you stock up on your favorites.
Culver City Bulk Department
Self-service access is available in Culver City. Use of the provided single-use gloves is required.
Bottle Deposits
Glass bottle returns have resumed.
Special Orders
Special orders have resumed.
Member Discount Days
Member Discount Days continue to be held on the third Friday, Saturday, and Sunday of every month. We strongly encourage using your discount online at Co-op Curbside & Delivery during those days.
Outdoor Dining
As of Monday, March 16, the City of Los Angeles is in a red tier zone – allowing for indoor dining at 25% capacity. In addition to the ample outdoor seating available at our Culver City location, indoor dining will resume at 25% per the city guideline. We do not have indoor our outdoor dining options in Santa Monica.
Self-Serve Sampling & Testers
All self-serve sampling has been suspended until further notice. All closed sampling must be consumed outside the store.
Refunds and Exchanges
Our normal refund and exchange policy has returned.
The Latest Covid-19 Updates
March 12, 2020

Dear Co-Opportunity Owners and Customers,

At Co-Opportunity Market, the safety and well-being of our owners, customers and staff is our top priority. Each time you shop at the co-op, you place your trust in our standards at every level. To further ensure your confidence in visiting our stores as Coronavirus (COVID-19) spreads, we want to communicate what we're doing to help protect the health of our community.

What We're Doing:

We continue our rigorous cleaning and disinfecting at high touch areas such as carts, registers, credit card keypads, elevators, bulk bins, kitchens, prep and break rooms.
We are reinforcing proper handwashing techniques with staff through multiple channels – reminding them verbally and through additional signage. We will soon be installing hand sanitizing machines in-store as an extra precaution.
Staff has been advised to stay home and promptly receive medical treatment if they are feeling ill. Our co-op has a generous paid time off policy and we will work with staff members impacted by COVID-19 on a case-by-case basis.
With the increased demand nationwide for sanitizers and sanitized wipes, we have been having difficulty obtaining them for our stores. We are working hard to source these necessities from a wide variety of suppliers.
We have built up inventory on cleaning products, hand soaps, water, paper goods (toilet paper and paper towels), pantry staples, immunity builders and wellness items.
In Prepared Foods, our food safety standards remain at a high level. All team members have completed food safety training and wear gloves and hats while serving customers.
We cancelled all in-store demos, including our wine and beer tastings in Culver City, until further notice.

What You Can Do:

When paying, we encourage you to use Apple Pay or Google Pay for contactless payment – available at all of our registers.
We encourage those who are not able to visit us in person to utilize delivery services – Instacart, Postmates, and Grubhub.
As our staff works tirelessly around the clock, please remember to show your gratitude through your kindness and patience.

As you know, the Coronavirus situation in our community is moving rapidly. We are following the developments closely and as we receive new information from public health officials and organizations, we will adjust quickly in order to protect our community. Our thoughts are with everyone around the world who has been impacted by COVID-19.Please take care of yourselves and each other.

Peace,

Mike Bowen
General Manager
Co-Opportunity Market